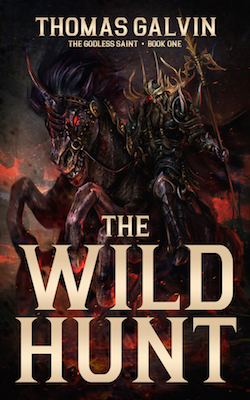 A controversial new story from a former believer.
Caden Lyndsey was a Man of God. He battled demons, saw visions of the future, and wielded the fire of Heaven.
He lost his faith, but not his power.
Now, his visions drive him toward rural Washington. A madman seeks to summon the Norse god Wotan and unleash the Wild Hunt on an unsuspecting populace. If he succeeds, hundreds will die. Caden must battle witches, monsters, and ancient deities in order to stop him.
The Wild Hunt is the first chapter in the thrilling new Godless Saint™ series.
A shotgun barked, and the wall in front of me sprayed shards.
Demons aren't supposed to use shotguns.
Burning sulfur summoned from the Dark Below? Sure. Barbed chains and rusty hooks? Classic. Hell, even a big ass kitchen knife? It worked for that guy in the Shatner mask in Halloween.
But they don't use guns. Guns are too modern, too Michael Bay. What's the point of being a spirit of darkness and hate if you're just gonna pull a gun and shoot your enemy?
No one respects tradition anymore.
I was crouched behind my Jeep, at the dead end of an alley. It had snowed earlier and the pavement was still wet, which meant my jeans were soaked. Next to me, huddled in a ball, rocking slowly and whispering "It's only a dream" to herself, was a twenty-something Pakistani girl named Aseelah. We'd met twelve hours ago.
So far, it had been the worst day of her life.
The demon's shotgun barked again, and the window over my head shattered. Pieces of glass showered down on us. "Come on!" I shouted. "I just had this thing fixed!" I shook bits of glass out of my shirt.
The shotgun fired again, and the rear passenger tire exploded. The Jeep rattled and lurched toward the ground.
The demon had fired three times.
Boom! Chick-clack!
Four.
Boom! Chick-clack!
Five shots. The demon should be out of ammo.
I jumped to my feet. Aseelah grabbed for me, but I pulled out of her grasp. "All right," I said as I came around the Jeep, "I've–"
Boom! The demon fired, right at my face.
It must have been a tactical shotgun. Eight, nine rounds, not five. Damn it.
The shotgun pellets met some invisible resistance, and the air around me rippled like a stone had been dropped into a pond. The lead balls stopped a quarter of an inch from my face, hung in the air for a moment, and fell to the ground.
The demon stared at me. She was attractive, or at least the body she'd hijacked was. Blonde, miniskirt, letterman jacket. But I had learned to see through illusion, to protect my mind from the glamours and veils of the spirit world. I opened my senses to the Æther, let the magic whisper to me, and I saw her for what she really was. Her hair was brittle, broken. Her teeth were rotted, cracked. Her skin was leathery and covered in sores. Her eyes were empty black pools.
Continue reading »