A controversial series from a former believer.
Caden Lyndsey was a prophet of God. He heard the Voice of the Lord, carried out the plans of heaven, and wielded the Fire of the Spirit.
He lost his faith, but he didn't lose his power.
Now visions of the future drive him into conflict with the gods, demons, and monsters that fight to gain access to our world and rule over humanity.
Novels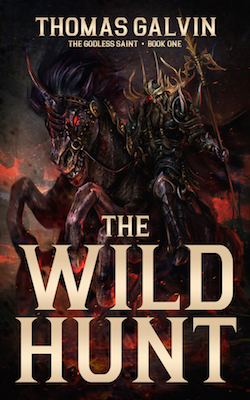 The Wild Hunt
Caden Lyndsey was a Man of God. He battled demons, saw visions of the future, and wielded the fire of Heaven.
He lost his faith, but not his power.
Now, his visions drive him toward rural Washington. A madman seeks to summon the Norse god Wotan and unleash the Wild Hunt on an unsuspecting populace. If he succeeds, hundreds will die. Caden must battle witches, monsters, and ancient deities in order to stop him.
The Wild Hunt is the first chapter in the thrilling new Godless Saint™ series.
Available on Kindle and coming soon in paperback.